Ashiana Amarah
Ashiana Amarah Overview : Ashiana Amarah, a luxurious residential development constructed on 22.1 acres of land welcome you to live a pleasant life with lots of smile and desire. Located in Sector 93 of Golf Course Extension Road"Ashiana Amarah sector 93" offers various configurations like 3BHK & 4BHK Luxury Apartments with panoramic views of the beautiful surroundings. With well-structured landscape, proper ventilation and abundant natural light flow in each space, this residential complex is designed for a premium lifestyle unlike any other, with a wealth of thoughtfully considered offerings. The residential project Ashiana Amarah Sector 93, Gurugram, will satisfy all of your needs for a comfortable lifestyle for you and your family. A life with a highly desired address and surroundings of comfort and tranquility, this community boasts of a location where daily living is enhanced beyond the confinement of a house. Thisproject in Sector 93 is visible from Gurgaon, the city between cities. Only for the selected few, flats in Ashiana Amarah Sector 93 are meticulously constructed and have unique features "a tranquil retreat for one's soul". This project's luxury apartments in Gurgaon have wrap-around balconies, corner houses, and a private lift lobby that provide comfort and well-being above and beyond comparison. In Gurugram's Ashiana Amarah Gurgaon, such setting is provided that makes you feel at ease between the clouds. The Ashiana Amarah at Golf Course Extension Road is being constructed to accommodate the wealthy neighborhood's growing need for well-designed, modern housing. The thorough design of each apartment ensures a classy and opulent way of life. Each individually designed home has balconies that give excellent ventilation and sunlight as well as magnificent views of the Aravalli hills and the city's skyline.
SPORTS AREAS:
From a cricket pitch to basketball and tennis courts, they will find the perfect zones to get into the game and find their calling.
And if its strokes they prefer, the swimming pool at Amarah is just the perfect place to dive into.
Tennis
Basketball
Cricket Nets
Swimming Pool
LEARNING HUB:
Right in the heart of Amarah, you will find a space that's specifically-designed to fuel young minds. A Learning Hub, for kids to come together and explore and discover their hobbies and passions. Where they can learn to master various arts and crafts.
Every room, from music to reading to dancing to arts & crafts, is hemmed by able professionals who know just what it takes to enrich kids' learning experiences, and fuel their imagination. While focussing on their all-round growth and development.
Dance Room
Music Room
Study Room
Activity Room
Reading Room
Art & Craft Room
PLAY STREET AREA:
As you make your way through Amarah, you'll come upon an open street that's meant just for kids. To play in, follow trails, make friends, and just enjoy every bit of childhood. We call it the Play Street. And it'll only be filled with the energy and laughter of kids. Designed to keep them engaged from dawn to dusk, and then some more.
Treehouse
Ribbon Seating
Dry Fountain with Rain Shower
Hopscotch
Kids Play Area
Central Feature Tree
Stepped Green Terrace
Seating
Tunnel Play
Cycling Ramp
Pergola Net Play Area
Dry Stream
Vegetable Garden
Location Advantages:
| | | |
| --- | --- | --- |
| Restaurants | Distance from Amarah by Ashiana | Time Taken |
| Bikanervala | 3.1KM | 8 Min |
| Barbeque Nation | 3.1 KM | 8 Min |
| Pizza Hut | 3.2 KM | 8 Min |
| KFC | 3.4 KM | 8 Min |
| Domino's | 6.8 KM | 14 Min |
| Harish Bakery | 6.3 KM | 14 Min |
| Malls & Shopping Complex | Distance from Amarah by Ashiana | Time Taken |
| JMS Cross Walk | 500 Mtr | 3 Min |
| Spaze Tristaar Grand | 2.5 KM | 5 Min |
| Sapphire 90 | 2.7 KM | 5 min |
| Trehan IRIS Broadway | 3.4 KM | 8 Min |
| Sapphire 83 | 7.2 KM | 14 Min |
| Vatika City Center | 8.8 KM | 17 Min |
| Hospitals | Distance from Amarah by Ashiana | Time Taken |
| Aman Hospital | 2.1 KM | 5 Min |
| Silver Streak Hospital | 2.4 KM | 5 Min |
| Aarvy Hospital | 4.0 KM | 8 Min |
| Apollo Miracle Hospital | 5.3 KM | 10 Min |
| Medeor Hospital | 6.6 KM | 13 Min |
| Medanta Super Speciality Hospital | 20 KM | 37 Min |
| Schools | Distance from Amarah by Ashiana | Time Taken |
| Yaduvanshi Shiksha Niketan | 650 mtr | 2 Min |
| Sidheshwar Public School | 5.5 KM | 11Min |
| MatriKiran School | 6.4 KM | 13 Min |
| Bal BhartiSchool | 8.0 KM | 17 Min |
Ashiana Amarah Price List :
| | | | | |
| --- | --- | --- | --- | --- |
| UNIT CATEGORY | UNIT TYPE | SUPER AREA(sq.ft) | CARPET + BALCONY AREA(sq.ft) | TOTAL PRICE |
| Lavender Premium Type – 1 | 3BHK + 2T + DECK | 1545 | 1000 + 193 | 0.97 to 1.10 cr. |
| Lavender Premium Type – 2 | 3BHK + 2T + DECK | 1545 | 1000 + 173 | 0.97 to 1.10 cr. |
| Tulip+ Type – 1 | 3BHK + 3T + DECK | 1845 | 1205 + 216 | 1.20 to 1.33 cr. |
| Tulip+ Type – 2 | 3BHK + 3T + DECK | 1845 | 1205 + 201 | 1.20 to 1.33 cr. |
| Iris+ Type – 1 | 4BHK + 4T + DECK | 2185 | 1408 + 268 | 1.48 to 1.55 cr. |
| Iris+ Type – 2 | 4BHK + 4T + DECK | 2185 | 1408 + 252 | 1.48 to 1.55 cr. |
GST as Applicable
BHK – Bedroom, Hall and Kitchen, ST/STD – Study, T- Toilet
All prices mentioned are approximate and can change without notice.
RERA no.: ASHIANA AMARAH Phase – I and IA RERA No. – 65 of 2022 Dated 18.07.2022 | www.haryanarera.gov.in
Ashiana Amarah Payment Plan :
CLP Plan
Particulars
Percentage
At the time of Booking
10% Of Total Cost
30 Days From Booking
10% Of Total Cost
On Excavation
10% Of Total Cost
On Casting of 5th Floor
10% Of Total Cost
On Casting of 10th Floor
10% Of Total Cost
On Casting of 14th Floor
10% Of Total Cost
On Start of Flat Flooring
12.5% Of Total Cost
On Application of OC
7.5% Of Total Cost
On Offer of Possession
5% Of Total Coste + IOP Charges
PLP Plan
Particulars
Percentage
At the time of Booking
10% Of Total Cost
30 Days From Booking
10% Of Total Cost
On Completion of Super Structure
30% Of Total Cost
On Application Of OC
40% Of Total Cost
On Offer of Possession
10% Of Total Cost
Ashiana Amarah Floor Plan:
Ashiana Amarah Location Map: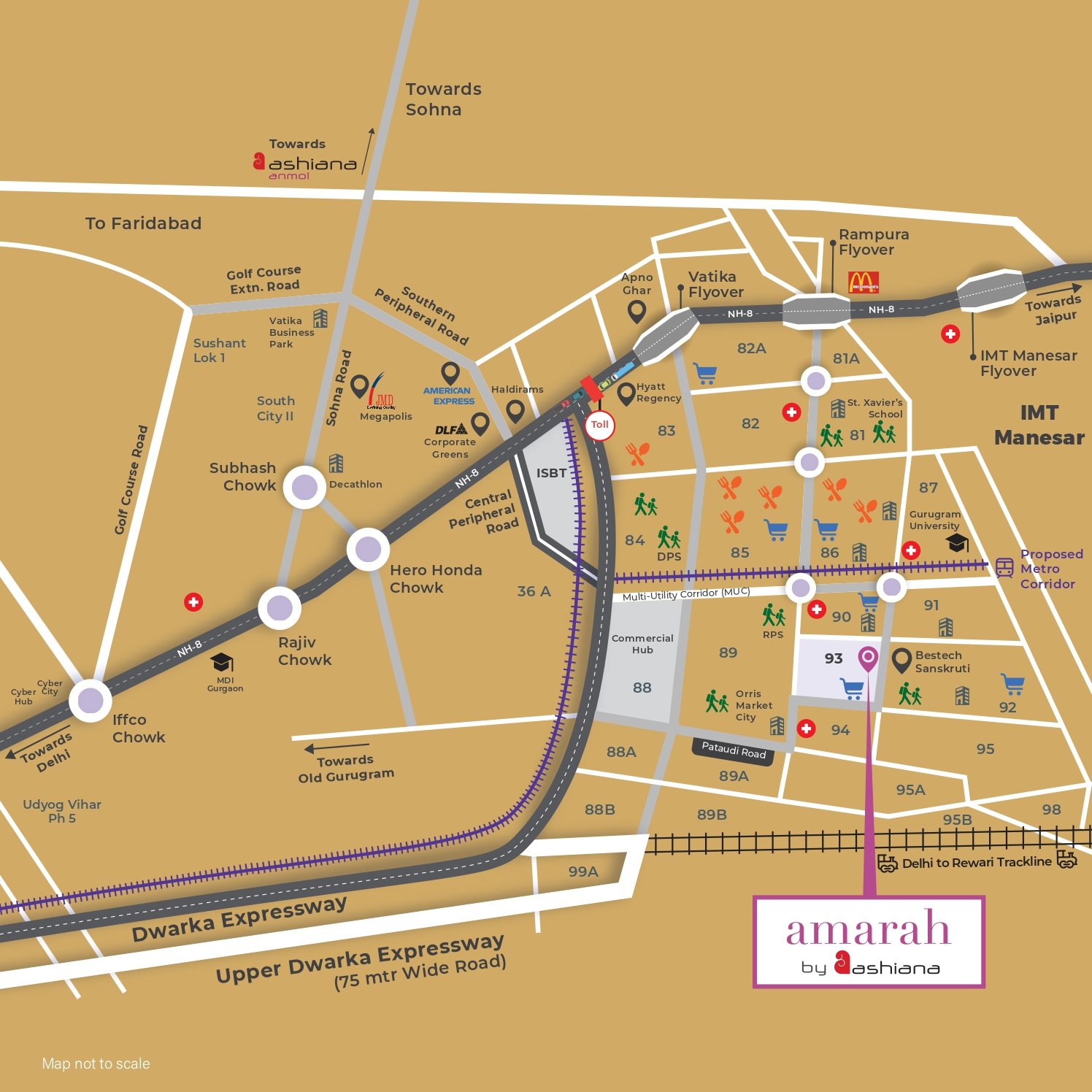 Ashiana Amarah Site Plan: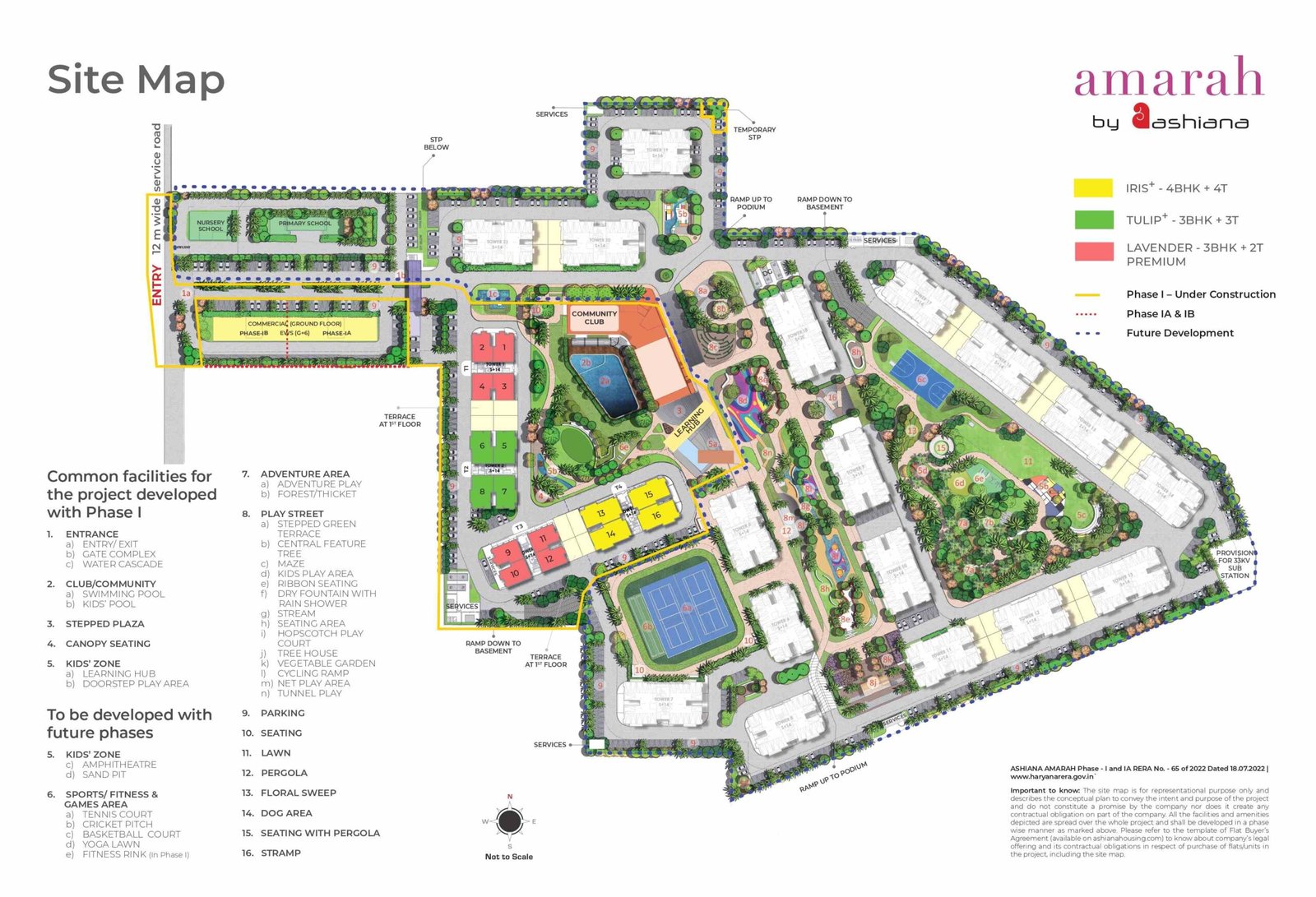 Address: Sector 93, Village, Wazirpur, Gurugram, Haryana
Location: New Gurgaon (NH-8) Projects
State: Haryana
Zip/Postal Code: 122505
Price: Rs.97 Lacs Onwards*
Property Size: 1000 sqft
Bedrooms: 3/4
Bathrooms: 2/3/4
Property Type: Residential, Residential Ongoing Projects
Property Status: New Launched