Paras Square
Paras Square: Paras Square Gurgaon is a contemporary mixed use development strategically located in sector 63 A, Gurgaon. It is undeniably one of the best destinations for regional and multinational businesses. Paras Square sector 63A Gurgaon is modern and vibrant place for young executives to live. This Ready to move commercial property in Gurgaon encompasses aesthetically designed retail units and state of the art studio apartments. Paras Square Gurgaon is the key junction point for working and living. Rationally located on the Golf Course Extension Road in Sec-63A, Gurugram, Paras Square Gurgaon Sector 63 A Gurgaon is crafted by Singapore based Architecture and design company named Warner Wong Design Architect, Singapore & Design Plus Architect, India. Paras square studio apartments are fully furnished and aesthetically designed apartments that represents perfect blend of style and comfort. If you are dreaming to live plush and comfortable life in Gurgaon, then Paras Square sector 63 A is perfect for you. These are fully furnished apartments ranging from 870 Sq.Ft. to 1225 Sq.Ft. Whether you are aiming to buy rustic retail stores ranging from flashback corner shops to leading fashion stores and super marts, retail shops at Paras Square Gurgaon suit all retailing requirements. These 170 retail shops offer wonderful retailing experience. Retail shops at Paras square 63 A Gurgaon range from size 500-1000 Sq. Ft. Paras Square Gurgaon attracts best brands and niche retailers from all over India. The best part about retail shops at Paras Square Gurgaon is that these are ready for fit out shops which maximize the positive influence by perfectly matching the right prospective customers. The project is strategically located on the 60 meters wide main road in sector 63 A Gurgaon.
PARAS SQUARE THE RETAIL
Ready for fit outs.
From rustic retail stores, flashback corner shops, to fashion giants and leading supermarts, these 170 Retail Units at Paras Square, offer the best of retail experience.
Ranging from size 500-1000 Sq. Ft., attracting the best brands and niche retailers, these Ready for Fit Out Units maximize the positive impact by matching the right target customers.
PARAS SQUARE THE STUDIO
Fully furnished spaces.
Imaginative modern designs, each of these 147 Studio Apartments at Paras Square is a perfect blend of comfort and style.
All in pursuit of ideal living, these fully furnished ready to move in apartments range for 870 Sq.Ft. to 1225 Sq.Ft.
ACCESSABILITY TO COMMERCIAL, IT-SEZ:
Total Area – ~150 acres
Constructed –
1. International Tech Park , Gurugram-1 Million sqft
2. Ireo – 0.8 Million sqft
3. TATA Intellion Park – 1 million sqft to be ready in another 4-5 months
Expected no. of employees by end of 2020 – more than 25,000
Companies Operational –
1. OPTUM- 6.5 Lac sqft
2. Software 1 -50K sqft
3. Admiral solution -50K sqft
4. On going Intellion Park by TATA of 1 Million sqft Operational by June,2020
Location Advantages:
Located in the upcoming business district of Gurugram in the National Capital Region(NCR) and in the close proximity to the most premium locales.
Quick access to New Delhi and rest of NCR via road and Rapid Metro Rail
Signal-free 16 lane expressway from NH-8 to Golf Course Extension Road
5-min drive from Rapid Metro station
30 mins from Indira Gandhi International Airport, New Delhi
Residential
• Ireo Grand Arc ~ 2 mins
• Mahindra Luminaire ~ 2 mins
• Tata Raisina ~2 mins
Hospitality & Business Centre
• Grand Hyatt Hotel & Business Centre ~6 mins
• Lemon Tree Hotel ~ 6 min
• Red Fox Hotel ~6 min
• Double Tree Hilton ~ 8 min
Healthcare
• Pratiksha Hospitals ~5 min
• Paras Hospital ~10 min
• Artemis hospital ~12 min
• HCL Healthcare ~12 min
Malls/retails
• Hong Kong Bazar ~5Min
• Central Plaza Mall~8Min
• DLF South Point Mall ~12Min
Education
• The Heritage School ~8 min
• The Paras World School ~12 min
• St Xavier's High School ~10 min
• DPS International ~ 10 min
SPECIFICATIONS & SERVICES:
Area: 2.25Acres
Super Built up area: 223,420 sq. ft.
No. of Floors: G+14
Total retail area: 90,915 sq. ft. (170 units) G+1.
Centralized Air conditioning
Total studio apartments area: 132,345 sq. ft.
Number of Units : 142 units ( 3th to 13th)
Citadines Apart Hotel : 94 Units (7th to 13th)
Three Level of basement
100% Power back up
Comprehensive fire fighting system
3 tier security system
Separate pick up and drop off for retail and
Studio Apartments
Provision for 24*7 operations
CONTEMPORARY ARCHITECTURE:
Modern architecture marries upscale designs to create a holistic environment
Lower Ground, Ground/Upper Ground and First floor for Retail
Second floor for F&B/food courts with some retail shops
Outdoor display venues, pedestrianised spaces and vibrant, attractive landscaping
Well-articulated vehicular traffic with no conflict points for pedestrian movement
Paras Square Gallery:
Paras Square Price List & Payment Plan:
PRICE LIST (Retail)
| | | |
| --- | --- | --- |
| Ground Floor | 1st Floor | 2nd Floor |
| ₹ 18,500 | ₹ 16,500 | ₹ 14,500 |
• Preferential Location Charge (PLC)
Front Facing ₹ 1000/- per sq. ft.
Atrium Facing ₹ 500/- per sq. ft.
• Exclusive Parking Space Charges ₹ 3,00,000/- (per Bay)
• EDC ₹ 431/-per sq. ft.
• IDC ₹ 71/-per sq. ft.
• IFMS Waived off
PRICE LIST

Area

Rate

Basic Selling Price (BSP)

870
11,500
PLC

500

Exclusive car parking space charges

3,00,000

EDC

Inclusive

IDC

Inclusive
IFMS

100

PAYMENT PLAN

Booking Amount

10% of TSV

Within 30 days of Booking

90% of TSV+OTAC
NOTE:
• RERA Reg No: 13 of 2018 (Dated 06.09.2018)
• Possession Charges @ ₹330/sq. ft. will be additional payable at the time of possession.
• Maintenance shall be payable at the time of possession on then prevailing rates.
TERMS & CONDITIONS:
• Cheque / Bank Draft to be issued in favor of "Blackberry Realcon Pvt. Ltd." payable at Gurgaon.
• Registration, Stamp Duty and any applicable taxes shall be payable at the time of Possession on
the then prevailing rates.
• Prices subject to revision at the sole discretion of the Company.
• Any other Tax as applicable would be payable by the customer as per demand.
• In case of any upward revision in Development Charges by the Govt. agencies, the same would be
recovered on pro-rata basis form the Applicant(S) / Allottee (S).
Paras Square Floor Plans:
Paras Square Location Map: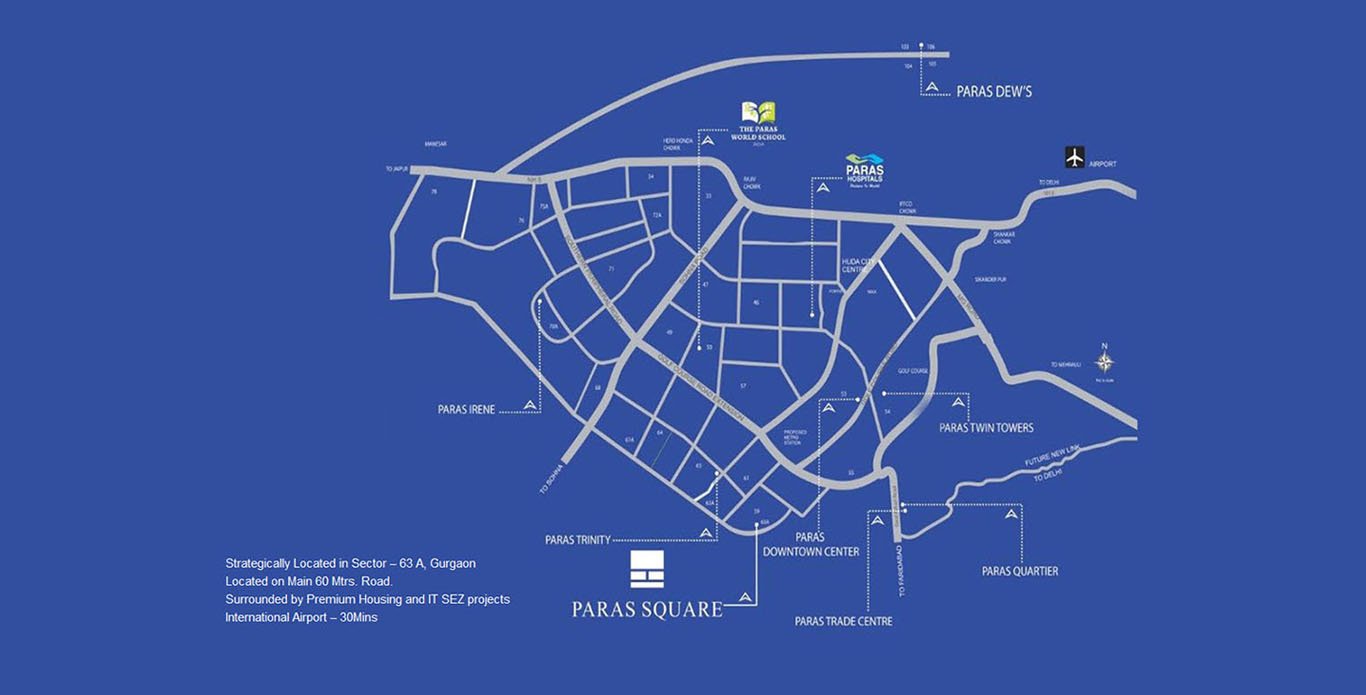 Paras Square Site Plan: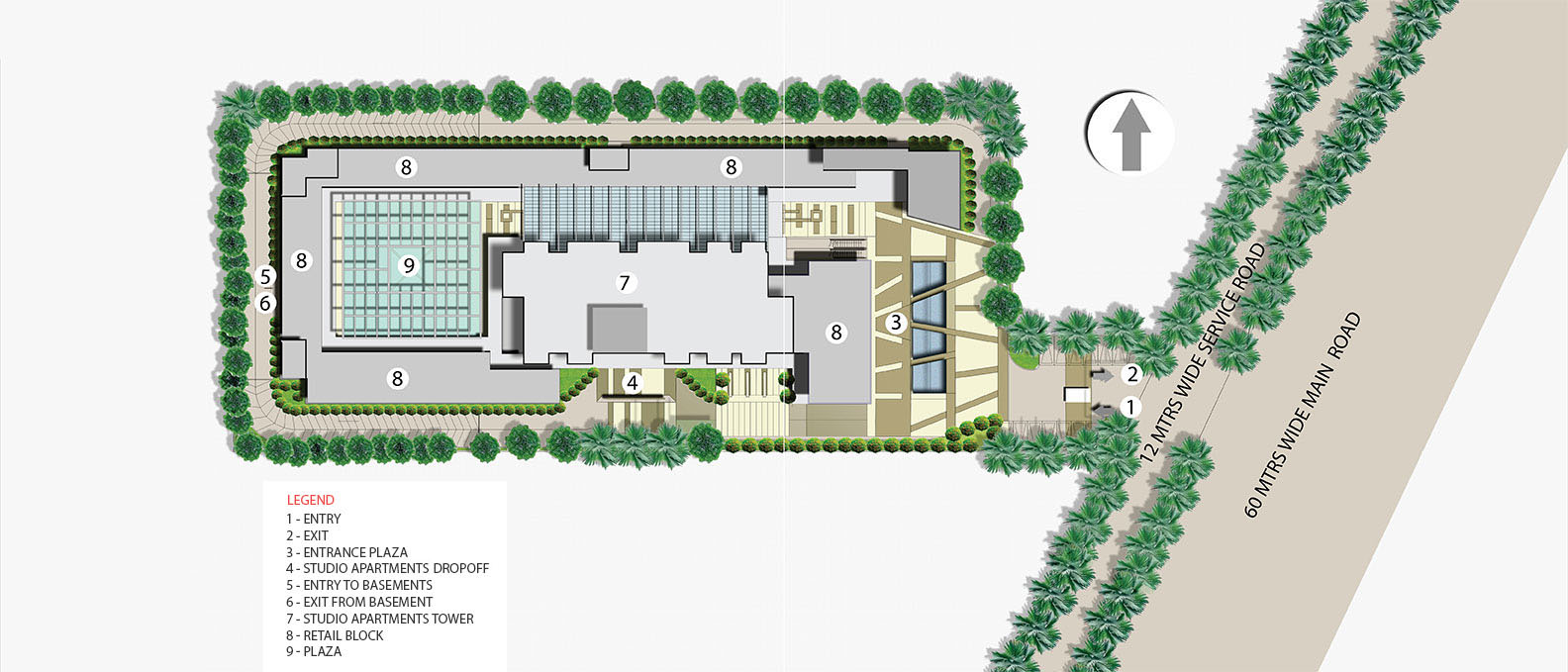 Address: Sector-63A, Kadarpur, Haryana
Location: Golf Course Extension Road Projects
State: Haryana
Zip/Postal Code: 122102
Price: Rs.1 Cr.
Property Size: 500 sqft
Property Type: Commercial Ready To Move Projects
Property Status: Ready to Move